Heavy Duty PUF Pipe Supports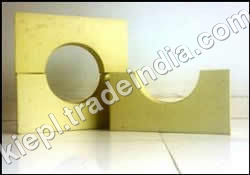 Heavy Duty PUF Pipe Supports
Product Description
Heavy Duty PUF Pipe Supports

We offer a wide range of Heavy Duty PUF Pipe Supports. These are manufactured in different density range viz 160kg/m3 to 250kg/m3. Extra density for the pipe size 15 NB to 600 NB can be achieved. The heavy duty PUF pipe supports are ideal substitute for conventional M.S and wooden pipe supports. These match the pipe specifications precisely in the insulation. Their features are neat finish of the pipe, supporting of various sizes and shapes to suit any requirement. Also, these are popular for their better dimensional and thermal insulation properties along with high compressive strength.
Key Features:

Quality and reliable services.
Flexible approach.
Well trained and experienced workforce.
Timely completion of projects.
Competitive prices.
Customer centric solutions.